"Heard on the street"
News of a new Z3 in 2003
From MZ3.Net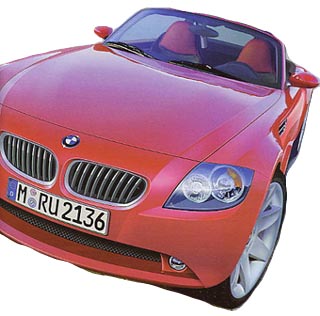 Pictures and details are starting to surface regarding the next BMW Z3 (aka E85). Two different magazines have posted pictures, the first set appears to be of a somewhat camouflaged version as the front bumper is different. The 2nd set appears to be an more accurate set of photographs. The new design is the creation of Chris Bangle (Z9 Concept and X-Coupe Designer).

To paraphrase what the articles are saying, apparently the new E85 Z3 is going to be "bigger, heavier, faster and more expensive". Apparently BMW marketing has decided to move the Z3 up the roadster food chain away from the highly competitive sub 35k roadster market. The interior is described as "less claustrophobic, with more luggage space". As far as engine sizes at least the Euro market will receive a 2.0 litre. Expect the new 3.0 litre to be the standard engine for the US market. One of the articles did mention the 3.2 litre engine, but any discussion about an ///M version of this new design is premature at this point.

From www.BMW2002.co.uk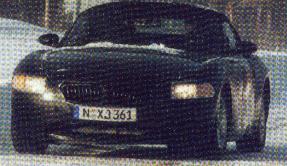 The new Z3 Roadster, will have a greatly improved chassis to help match its rivals from Audi, Honda & Mercedes.

It's bigger in every dimension freeing up more cabin space & extended wheel base.

UK deliveries expected Spring 2003, with the USA to get deliveries in 2002. It's to take on the Audi TT, the Honda 2000 & the Mercedes SLK, the front design hints at the concept X-Coupe recently seen at Detroit motor show.

BMW are considering a folding hardtop option & are working with Webasto & Karmann to design the new hood.

Should run rings around the opposition as it uses the new 3-Series (E46) front engine, rear suspension setup.

Models are to include 5 Speed; 2.0 litre 4 Pot from Hams Hall delivering 140
Bhp, 2.2 - 6 Cylinder 170 Bhp, 2.5 - 187 Bhp, 3.0 - 231 Bhp using BMW's Valvetronic varible timing system.

A range topping 3.2 - 343 Bhp from the latest M3 (E46) available in 6 Speed manual or SMG Auto. 0-60 should take 5.2 Secs & Top speed limited to 155 Mph. It will have it's own unique dash board & higher levels of Trim. All will be built at the South Carolina USA factory.

2001 M Roadster and M Coupe
Over the past few months bits of information have been leaking out regarding the new 2001 M Roadster and M Coupe. This has attracted a great deal of interest among Z3 owners principally because of the new 315 Horsepower M3 engine. For the first time photos have been released of the two cars (these are the Euro versions). Click the photo for the full size version. Be prepared to wait a few minutes (photos provided courtesy of Tim Cullis).
2001 BMW M Coupe on display at the Houston Auto Show.
Manufacturer's suggested retail prices of $45,635
Engine All-new 3.2 liter in-line six, like in the new E46 M3 coupe.
DOHC 24 value inline 6
Double VANOS steplessly variable valve timing for intake and exhaust
Six individual electronically controlled throttles
Displacement 3246 cu in.
Horsepower of 315 @ 7400 rpm
Torque of 251 lb.ft. @ 4900 rpm
11.5:1 compression ratio
New engine designated as S54
Engine's rpm limit is 7600
A new cylinder head dramatically improves its ability to breath.
Large, high-lift valves and finger-type rocker arms, reduces inertia

M coupe vs. E46 M3
315 hp at 7400 rpm (vs. 333 at 7900)
251 lb-ft. (vs. 262) @ 4900 rpm.
M Driving Dynamics Control system
New Dynamic Stability Control, DSC, (vs. previous model years All Season Traction Control) with specific logic developed for the M's performance.

General data
Length x width x height in. - 158.5 x 68.5 x 50.4
Curd weight lbs. - 3131
Performance and fuel economy
0-60 mph - TBA
Top Speed - 137mph (electronically limited)
EPA est, MPG, city/highway - TBA
Standard equipment
Updates to the standard equipment offered on previous years models.
Dynamic Stability Control
Tire Pressure Monitoring system via an indicator in the instrument cluster.
Updated M logo
17-in. wheels get the same Satin Chrome finish found on the E46 M3's
New gray dials with backlighted numerals
An outside-temperature readout in the center console in place of the previous voltmeter.

2001 BMW M COUPE AND M ROADSTER MAKE WORLD DEBUT AT LOS ANGELES INTERNATIONAL AUTO SHOW (Posted by Tim Cullis on the Z3 Message Board, 1/5/2001)
January 5 2001

Woodcliff Lake, New Jersey, January 5, 2001... The 2001 BMW M coupe and M roadster made their world debut at the Greater Los Angeles Auto Show. BMW further announced manufacturer's suggested retail prices of $45,635 for the M coupe and $46,635 for the M roadster. The 2001 M3coupe, announced earlier this year will be priced at $46,045. These two cars had previously won praise for their combination of unique style and lightening quick responsiveness. Of particular note was their 240 horsepower, in-line six cylinder engine, courtesy of BMW M. For 2001 that much loved engine gives way to an all-new 3.2 liter in-line six, first seen in the M3 coupe. In the M coupe and M roadster, horsepower goes from 240 to an even more thrilling 315. There's also a significant increase in torque, from 236 lb-ft. to a new peak of 251 lb.ft.

A Tour de Force of Technology and Power
The list of enhancements that this new engine, designated S54, brings to the party is quite lengthy. A new cylinder head dramatically improves its ability to breath. It features Double VANOS (VAriable NOckenwellen Steuerung = variable camshaft control or variable valve timing) steplessly variable valve timing for both intake and exhaust which has been enhanced to match the performance capability of this new engine. Large, high-lift valves and finger-type rocker arms reduce inertia for a further gain in response. To this add an 11.5:1 compression ratio.
Six individual throttles, one for each cylinder, improve response. As with the BMW M5's V8 engine, these throttles are electronically-controlled and incorporate the M Driving Dynamics Control system, which gives the driver a choice of Normal and ultra-responsive Sport settings for throttle response.
All this performance-oriented engineering facilitates the achievement of very high rotational speed, essential to the high power output; the engine's rpm limit is 7600, and maximum power occurs at 7400 rpm.
Spectacular Performance
Because the compactness of the M roadster and coupe dictate an exhaust system (aft of the headers) that is somewhat more restrictive than that of the M3, the engine's power and torque ratings are a bit lower than in the M3: 315 hp at 7400 rpm (vs. 333 at 7900) , 251 lb-ft. (vs. 262) @ 4900 rpm. Both models come with a heavy-duty 5-speed manual transmission. Yet with these roadster's and coupe's lower curb weight, they are expected to attain performance fully comparable to that of the M3.
Reactions to the M3 will provide some insight into the M coupe and M roadster. The reaction at AutoWeek was summed up in a word, "wow!" Car and Driver suggested that," this ferocious, screaming motor hurtles the M3 down the road with an urgency that now rivals the world's best sports cars..."
Enhanced Handling, New Dynamic Stability Control
To harmonize the M roadster's handling with its newfound power, BMW engineers have endowed it with the firmer suspension calibration previously found only on the coupe; Dynamic Stability Control has been added to both models. (Previous models had All Season Traction, BMW's electronic traction control.). For the M models, BMW M engineers developed specific logic that, in combination with the fast-reacting engine, performance-oriented gearing and standard limited-slip differential achieves the desired traction control in an M-compatible way...in other words, without undue interference with M performance and the differential's ability to get power to the road.
In DSC's stability-enhancing function, differences in wheel speed in a critical cornering or avoidance maneuver are sensed to detect any deviation from the normal cornering path (abnormal understeer or oversteer). DSC then judiciously manages the throttles and individual wheel brakes to help the driver keep the vehicle on the intended path. For situations where the driver wants to take over fully, DSC can be de-activated via a console button.
Evolutionary Improvements Throughout
Along with the new engine and the chassis enhancements come a variety of evolutionary improvements to both M models. One such feature is the Tire Pressure Monitoring system, which informs the driver of any falloff in tire pressure via an indicator in the instrument cluster. With this addition to the M roadster and coupe, the system is now standard on all M Cars.
Visually, the classic designs are little changed; as on the M3s, the M logo appears in updated form, and the beefy 17-in. wheels get the same elegant Satin Chrome finish found on the M3s and the top-of-line M5 sport sedan. Inside, new gray dials with backlighted numerals freshen the instrument cluster's appearance. An outside-temperature readout now appears in the center console in place of the previous voltmeter.
From Autoweek Magazine, January 1, 2001:
Report on the upcoming Los Angeles Auto Show, Jan 6-14.
" BMW will offer the new M Roadster and M Coupe, both cars with the 3.2-liter European motor.

While previous M cars sold in the United States had wimpier engines than their Euro counterparts, BMW now offers the same power on both sides of the Atlantic.

Or almost the same power.

The M Coupe and Roadster will offer 315 hp where the U.S. and Euro M3 coupes will have 330, but it's a step in the right direction.

Expect the first cars in customer hands around March."
Upcoming Detroit Auto Show Press German Release (courtesy of Tim Cullis):
(the following text was released in German and has been 'roughly' translated)
....With new M3 engine now also in M coupé and M roadster.

Also in M coupé and M roadster is used now the new six cylinder high speed
engine of the current M3. It replaces with it the past engine, which
underlined the top place of the two Z3-Modelle in impressive type. Four HP
or three kilowatts more propel now the Top version of the Z3-Roadster, thus
325 HP equal 239 KW at a number of revolutions of 7 400/min. The max. torque
remained the same with 350 Newtonmeters however, it lies close with 4
900/min. These M power M brings coupé and to M roadster from the status in
only 5.3 seconds on speed 100; accurately the same time elapses, until in
the fourth course of 80 to 120 km/h one accelerates. A kilometer with
standing start so mentioned is already achieved after 24.4 seconds. The
maximum speed is abgeregelt as before with 250 km/h electronically.

During this enormous force development the new M3-Motor in the two
Z3-Versions deals very economically with superfuel: In the overland traffic
the two M versions take only 7.9 Liter/100 km to itself, the average
consumption amount to 11.1 Liter/100 km.

On the chassis area M roadster of almost everything remained the same with M
coupé and. Engineers of BMW M now took over the somewhat tauter tuning from
the M coupé also for the open two-seater, which drives itself thereby still
more sportily. Two further important details found likewise chute: The two
strong Z3-Typen have now in series for the first time dynamic stability
control (DSC), as well as a tire pressure warning system, as it admits from
the new M3 is.

Also the optics of the two classical authors inside as outside fundamentally
not touched, only wheels in chrome Shadow lacquer finish and easily modified
armatures with grey supported dials in transillumination technique fall the
attentive viewer in the eye. Again however are two attractive external
colours; as for the new M3 also for M coupé and M are offered now to
roadster the strong colours Laguna Seca blue and Phoenixgelb.
If you speak German, here is the actual text of the release:
Mit neuem M3 Motor jetzt auch in M coupé und M roadster.

Auch in M coupé und M roadster kommt jetzt der neue
Sechs-zylinder-Hochleistungs-Motor des aktuellen M3 zum Einsatz. Er ersetzt
damit das bisherige Triebwerk, das auf eindrucksvolle Art die
Spitzenstellung der beiden Z3-Modelle unterstrich. Vier PS oder drei
Kilowatt mehr treiben jetzt die Topversionen der Z3-Reihe an, also 325 PS
gleich 239 kW bei einer Drehzahl von 7 400/min. Das maximale Drehmoment
blieb mit 350 Newtonmetern jedoch gleich, es liegt bei 4 900/min an.

Diese M Power bringt M coupé und M roadster aus dem Stand in nur 5,3
Sekunden auf Tempo 100; exakt die gleiche Zeit verstreicht, bis im vierten
Gang von 80 auf 120 km/h beschleunigt wird. Ein Kilometer mit so genanntem
stehendem Start ist bereits nach 24,4 Sekunden erreicht. Die
Höchstgeschwindigkeit wird wie bisher bei 250 km/h elektronisch abgeregelt.

Bei dieser enormen Kraftentfaltung geht der neue M3-Motor in den beiden
Z3-Versionen sehr sparsam mit Superkraftstoff um: Im Überlandverkehr nehmen
die beiden M Varianten nur 7,9 Liter/100 km zu sich, der
Durchschnittsverbrauch beträgt 11,1 Liter/100 km.

Auf dem Fahrwerksbereich blieb bei M coupé und M roadster nahezu alles
gleich. Die Ingenieure von BMW M übernahmen die etwas straffere Abstimmung
aus dem M coupé jetzt auch für den offenen Zweisitzer, der sich damit noch
sportlicher fährt. Zwei weitere wichtige Details fanden ebenfalls Einzug:
Die beiden starken Z3-Typen haben jetzt serienmäßig erstmals die Dynamische
Stabilitäts Control (DSC), sowie ein Reifendruckwarnsystem, wie es aus dem
neuen M3 bekannt ist.

Auch die Optik der beiden Klassiker wurde innen wie außen nicht grundlegend
angetastet, lediglich Räder in Chrom-Shadow-Lackierung und leicht
modifizierte Armaturen mit grau unterlegten Zifferblättern in
Durchleuchte-Technik fallen dem aufmerksamen Betrachter ins Auge. Neu
hingegen sind zwei attraktive Außenfarben; wie für den neuen M3 werden jetzt
auch für M coupé und M roadster die kräftigen Farbtöne Laguna-Seca-Blau und
Phönixgelb angeboten.


Back to Houston Z3 Owners Group Home Page