Where to Stay
Bed and breakfast, Inc
1-800-729-4640
Call them and describe what you're looking for and they'll set you up with accommodations. Rates start at $45 and go up. Ask for details.

The Cornstalk
915 Royal Street
504/523-1515
Rates: $65-$135
One of the most famous homes in New Orleans because of its cornstalk fence.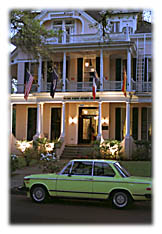 Park View Guest House
7004 St. Charles Avenue
504/861-7564
Next door to Audobon Park and Audobon Zoo.
Rates vary from $65-$85 and also depend on special events. Some rooms share a bathroom so make sure you ask for a private room if that's what you want. (Pictured above.)
Hotel Villa Convento
616 Ursuline Street
504/522-1793
Rates start at $69 to $95.
Started out as an apartment building for the Ursuline Nuns, now most popular with the Europeans. No children under 10 or pets. 12 car covered garage (two blocks away) available at $8 per night - we suggest you reserve this too, if you plan on staying here.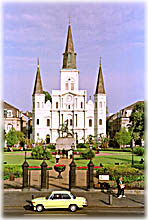 Jackson Square is one of the main attractions in New Orleans with its street shows, shops and restaurants. Other attractions in New Orleans: The Aquarium of the Americas, Audobon Park and Zoo (try taking the streetcar to Audobon and ride a river boat back) and the swamp tours. Visit the Louisiana Tourist center in Jackson Square (it will be on your right as you face the cathedral).
Restaurants in New Orleans we recommend
Commander's Palace
1427 Washington Ave.
504/899-8221
Another landmark that should be recognized by Ann Rice fans. Loved by the locals and the tourists for its seafood and great service (another place I've enjoyed thanks to expense accounts). In the Garden District across the street from Lafayette Cemetery.
Copeland's of New Orleans
Several location in New Orleans but we prefer the St. Charles location (4338 St. Charles Ave right on the streetcar route).
504/879-2325
Cajun American.
For you Anne Rice fans, this is the perfect place to relax after gawking and wondering what Rice is going to do with her place that's just down the street.
Johnny's Po-Boys
511 St. Louis St.
504/523-9071
Some of the best po-boys in town.
Moma Rosa's
616 North Rampart
504/523-0120
For you pizza lovers, voted one of the Nine Best by People Magazine.
Mosca's Restaurant
4137 U.S. Hwy 90W
Italian-Creole
Take the Huey P. Long Bridge across the river. Look for the Budweiser sign on your left. Trust us, it may not be flashy but, it's got great food. Rumor has it that this place was popular with the mobsters.
Note: 5:30PM to 9:30PM, Tuesday-Saturday. Cash only.
Mother's
401 Poydras at Tchoupitoulas (Chop-a-tool-us)
504/523-9656
Great place for breakfast: Ham, eggs, grits and biscuits.
Pascal Manale Restaurant
1838 Napoleon Avenue
504/895-4877
BBQ shrimp, seafood, Italian food, steaks and raw oyster bar. One of the more expensive restaurants on our list.
Port of Call
838 Esplanade
504/523-0120
Like we said before, just because it doesn't look fancy it doesn't mean it's not good.
*This information is current for July/August 1994.
Summer is here and I am sure a lot of you are looking for vacation destinations. During the past three years, when I have needed a getaway I have headed south to Mexico City or Cancun for our extended stays. For our three or four day weekends, I have headed to New Orleans. And, believe it or not, New Orleans provides more of a culture shock then Cancun.
The Drive
The drive from our home in the W. Alabama/Shepherd area to the French Quarter takes us about 4 1/2 hours while averaging about 85MPH. On our last trip during Easter Weekend we decided to take Ol' Yeller, my Golf (sort of a Hi-Liter yellow.. .and YES, it is the original color) 1974 2002. Depending on when you travel, you may encounter some traffic which can slow you down considerably. Bumper to bumper traffic from New Orleans to Houston is not unheard of so plan your departures appropriately. As far as state troopers are concerned, you'll encounter more in Louisiana then you will in Texas but after you've driven the route a few times you'll know where to look for them. Typically, we see most of them between St. Charles and Baton Rouge. Look for them on the left side of the road, hidden amongst the trees, when you're driving through the tree lined roads (west of Baton Rouge). Other places to watch for them are when you come off bridges. One place where it's usually safe to open it up is between Baton Rouge and New Orleans, over the Atchafalaya swamps. I say usually because I have seen police cars there, but they're easy to spot. By the way, pay attention to your fuel levels. There are some stretches of road where you won't find a gas station for 20 or more miles (the Atchafalaya swamps, for example) so fuel up if you have less then a 20 mile range.
Where to Stay
During my trips to New Orleans, I have stayed at everything from the YMCA at Lee's Circle (during my college days) to the Sheraton and DoubleTree (during business trips). But my favorite places to stay are at bed and breakfasts or old hotels in the Quarter or the Garden District. If you do go to New Orleans, don't bother with the big name hotels. No matter how much they try to fashion their hotel to the New Orleans style, they still can't begin to touch the charm or warmth - not to mention the history - that a bed and breakfast or a hotel such as the Hotel Villa Convento will provide.
On my recent trip to New Orleans I stayed at the Hotel Villa Convento. The buggy drivers will tell you that the Villa Convento (originally built for the Ursuline Sisters) is the actual House of the Rising Sun but when I asked the manager about this he laughed it off and said that at one time, just about every hotel in the Quarter could be considered the "House of the Rising Sun." (Contrary to the story that the house received its name from all the Johns leaving with the rising of the sun, some say the real House of the Rising Sun, 826 St. Louis Street, received its name after one of its owners, Elizabeth Levant. Levant, translated from French means "rising.") The Villa Convento, like most of the old buildings in the Quarter, has a nice courtyard where you can have your breakfast (looking up at all the stairs reminds me of an Escher drawing). Or, if you're lucky enough to get a room with an outdoor patio, as we did, you can watch the people going by below and enjoy the smell coming from the bakery across the street (don't worry about trying the bakery's goodies, the Villa gets its bread from this same bakery).
One of my favorite bed and breakfasts is Jill Wagner's place at 813 Bourbon Street. I consider it one of my favorites for several reasons: Its location puts you within walking distance of all the action but yet, it's far enough (we're talking three or four blocks) from all the Bourbon Street noise that you're able to get some sleep at night. Jill Wagner is also a great hostess and she's invaluable in steering you in the right direction. The house looks very nice on the outside but its real beauty is within. And by the way, if you're worried that staying in a bed and breakfast may mean staying in someone's spare bedroom, don't be. All the bed and breakfasts I've stayed at are rooms separate from the main house. In many instances, these rooms used to serve as kitchens (remember they you used be separate from the main house), slave or maid quarters or guest homes. I also have always had my own kitchen, private bathroom and private entrance.
Sight Seeing
In New Orleans and its surrounding areas there is lots to see and do. First, the French Quarter. Not only is there lots of shopping to be done, there are lots of tours of the historical buildings within the French Quarter. Even though it is called the French Quarter, the style is actually Spanish. In 1788, in what is called the Good Friday fire, much of the Quarter was destroyed. Much of the damage could have been contained but, being a holy day, priests refused to ring the church bell to warn the residents. The fire quickly spread and engulfed almost all of the Quarter. Only a handful of the original buildings survived. Among them, Jean Lafitte's Blacksmith Shop, 941 Bourbon Street, built in 1772 (Lafitte's pirates supposedly sold their goods through the back door) and the Ursuline Convent at 1114 Chartres Street. What did survive the Good Friday fire was later subjected to the 1794 fire and three hurricanes between 1793 and 1794. While you're down there, if you want to learn more about the Quarter, say The Haunted House on Royal, we recommend the buggy rides, even though their stories can sometimes be inaccurate. A buggy ride will set you back about $8 per person (plus tip) or $40 (plus tip) for an open carriage buggy. Expect the ride to take about half an hour.
We recommend you also tour the Garden District and Uptown Historic District (by the way, you can also find bed and breakfasts in these areas). These neighborhoods have the largest and most elaborate homes in the New Orleans area. Up until the early 1850s, the Garden District was actually a separate city, Lafayette. This was due to prejudices; Americans were not welcomed in the Quarter by the Creoles and the Spanish. In fact, Canal Street (so named because it was originally supposed to be a canal) represented the dividing line between the Protestant Americans and the Catholic Spanish and Creoles. If you're staying in the Quarter and you'd like to tour the Garden District or the Uptown Historic District, we recommend the St. Charles Streetcar (try to avoid riding during rush hour, these streetcars are used by commuters). To catch the St. Charles, head east on Bourbon Street and cross Canal Street. Once you cross Canal St., Bourbon St. turns into Carondelet (Care-on-da-let). (It is best to catch the streetcar at the corner of Carondelet and Canal if you want to get a seat). The ride costs a dollar one way and the round trip will take close to 2 hours.
If you're interested in seeing plantation homes, we recommend Oak Alley, so named because of the Oaks which line its front. Of course, there are many other plantation homes such as San Francisco and Nottaway. To get to Oak Alley, take I-10 towards Baton Rouge, exit at 310. Take 310 across the Mississippi River to River Road. You'll head west on River Road for about half an hour (the total time is about an hour). If you're like me, you may find it hard to resist the temptation of driving a little over the speed limit, but be careful! You can expect to see at least one police car on the road. If you do go to Oak Alley, we recommend you go early, tour the house and have lunch there. This way you avoid the tour buses and tour boats which usually show up about noon. One word of caution, River Road is a fun, winding road that follows the Mississippi River (as the name hints) but it becomes very slick when it's wet. So, if it's raining, don't even consider driving on the road, I don't care if you do have anti-locking brakes and traction control - chances are the other cars will not have these features!
Dining Out and Music
Finding a good place to eat and to listen to music are two things were you'll have a tough time going wrong in New Orleans. That being the case, we'll keep this part brief and just give you some tips: The New Orleans Jazz and Heritage Festival (last weekend in April and first in May) is a must for all Jazz lovers. Buy your tickets early because they do sell out fast (call Ticketmaster for info or write P.O. Box 53407 New Orleans, LA 70153). If you decide to go to Café du Monde for coffee and beignets, don't wait to be seated. I know you'll see some people waiting to be seated but that's because they don't know they're supposed to seat themselves. So, be alert, maybe split up, and watch for people who are about to stand up and go for their table. Be careful when getting re-fills on your ice-tea - some places will charge you extra for re-fills! What may look like a dive may actually be a national landmark with some great food, so don't let appearance s fool you. For that matter, I wouldn't waste my time waiting in line to get into some of the more famous restaurants. There are too many great restaurants in New Orleans for you to be doing that (I say that goes for Houston, too). Remember, Bourbon Street is the site of male and female strippers, sex shops and general mayhem so, if you don't want your children exposed to this stay away from Bourbon Street! Our last tip is the most important: Be very careful! Avoid dark streets. If you don't know the area you're going to, take a cab.