(Click on images for bigger view)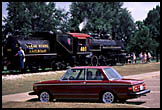 Texas State Railroad Information
P.O. Box 39
Rusk, TX 75785
(903) 683-2561
1-800-442-8951 (Texas only)
For timetable, fares and any other information on the Texas Railroad, see the their web site.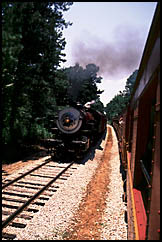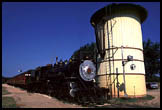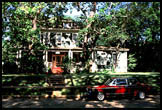 Where We Stayed
The Wiffletree Inn
1001 North Sycamore
Palestine, Texas 75801
(903) 723-6793
1-800-354-2018
See their web site for more info and map (pictured above).
W hen I was living in South America, my grandfather used to tell me about his days as an engineer on steam engine trains. I had always liked old machines, be they cars, airplanes or trains. I had been on various old planes and cars (I even own an old car) but I had never had a chance to ride in an old steam engine train, until last weekend.
I had read somewhere about the Texas State Railroad (903-683-2561 or 1-800-442-8951 Texas only) which featured several steam engine trains running back and forth between Rusk and Palestine (about a 2.5 hour drive from Houston). I decided in making a weekend out of it and started looking for a bed and breakfast in Rusk to stay in (we picked Rusk because that was where the railroad was based out of). We pulled out our B&B books but found nothing listed for Rusk. We checked for Palestine and again, we didn't find anything. So, we fired up the modem and did a search on the internet and found The Wiffletree Inn in Palestine (1-800-354-2018 or 903-723-6793). Before long we had reserved a room and had two tickets for the train.
If you want to take the round trip ride you should be there by 10:15 in the morning (the trains leave at 11AM). Given I didn't want to get up early for the 2.5 hour drive, we decided to drive to Palestine on Saturday, get some sightseeing in and ride the train on Sunday. So, Saturday morning we pulled out at about 10AM. For our drive to Palestine we decided to take I-45 to 79. As would be expected, the drive up 45 was not that interesting but it did mean we were able to cruise at about 85mph (although we managed to also safely do 80-85mph on all the back roads). Finding our way to the Wiffletree Inn was also pretty easy thanks to a map I had printed from their web site.
As we have come to expect with B&Bs, the inn was very nice, cozy yet, spacious. The Innkeepers, Steve and Jan Frisch, were friendly and helpful in giving us tips on the area (Sunday morning they also cooked up a delicious breakfast). Once we unloaded our stuff, we went looking for the railroad.
Palestine is a very small town yet, it holds claim to the second highest number of historical homes in Texas (second only to Galveston). We had been distracted by some of these homes when I stumbled on to a sign for the railroad. The Palestine depot is just a few miles east of loop 256 on US 84. By this time it was about 1:20PM and the train was about to leave for its return to Rusk. Of course, I wanted to watch its departure, so we stuck around. Not only that, I waited for the Rusk-Palestine train to arrive at 3PM. Both the Palestine and Rusk stations have a souvenir store plus a small menu of sandwiches - this was good enough for our lunch.
After we saw the Rusk-Palestine train arrive, we headed east on 84 to check out Rusk. A few miles out of Rusk I started getting concerned: I had expected to see some gas stations but I still hadn't spotted any and I was running low on gas! As we pulled into Rusk, I spotted a gas station and pulled in.
The station brand wasn't my favorite so I bought just enough fuel to get me another 80 miles. We walked into the gas station to buy some ice tea and to pay for the gas. A young friendly couple (probably still in high school) working the store asked me if we were from Houston. I was surprised - we (and my 2002) didn't look like locals but was it so obvious we were from Houston? (As we were heading out the store I realized I was wearing my white polo shirt with the "Houston 02 Owners Group" patch.) They asked us "what are you doing in Rusk?" in a manner that really said 'what are you doing in Rusk? There's nothing here?' They suggested we go to Tyler for dinner and entertainment - that's where the action is. Having seen all there was to see in Palestine and Rusk, we took their advise.
Sunday morning, after I finished reading my stack of magazines I had started the night before, I joined two fellow guests for breakfast at 8:30AM. I mentioned in the St. Francisville article in the last issue that these trips are about the only time I get a chance to read and sure enough, I was reading magazines that had piled up since our trip to St. Francisville.
Our hosts mentioned that this was actually their slow time of the year because of the heat and because they thought parents were getting ready to send kids off to school (keep this in mind if you're planning a trip out here). They also mentioned that the Texas State Railroad puts on a mystery ride - Murder on the dis-Oriented Express. Several people act out a scene during the ride and the riders get to try to figure out 'whodunit'. Correct answers are used for a drawings which have included trips to New Orleans - something else to keep in mind. By the way, murder mysteries seem to be a popular thing in this area, the Wiffletree Inn also has their own murder mystery which includes visits to Palestine landmarks, including a cemetery, in search of clues.
We arrived at the Palestine depot at about 10AM - we had plenty of time for a tour of the work in progress of the collection's largest machine, the 610. We had been offered a tour the day before so I asked for a tour. Kyle, a 7 year old boy, showed up to take us to his grandfather and the 610. As we walked to the 610, Kyle's grandfather said he was a bit tied up but Kyle jumped at the opportunity to show us around. You can tell Kyle really loved doing his job - it was like he was showing us all of his toys; he gave us a tour of the 610 cabin, showing us where the throttle and breaks were and how to check the fire. Then he offered us a tour of the caboose. I asked Kyle if his grandfather ever came home singing '...I've been working on railroad' but he didn't think he had ever heard him singing it.
The 50 mile round trip takes about 4 hours: 1 and half hours each way plus 1 hour in between each leg for lunch and touring the facilities. On our leg from Palestine to Rusk, our passenger car with big windows and no A/C, was right behind the engine(if your thinking about the murder mystery train, I'm told they don't use these open passenger cars). The nice thing about this is that you get to hear and feel the engine at work! You'll have to go to see what I'm talking about. As I mentioned before, the car is not air conditioned but, once you get going, the breeze makes the ride tolerable. Also, you're allowed to bring drinks on board (no alcohol) or you can buy drinks or ice cream on board.
At the same time you're leaving the Palestine depot, another train is leaving the Rusk depot. About halfway into the 25 mile line or 45 minutes into the ride, the west bound train (the one that just left Rusk) will pull into a siding and wait for the east bound train to pass. This is when you should have your camera ready. To be ready, be sure to be on the left side of the train so you can see the other train. Actually, I think the view is better when you're on the Palestine bound train because you're stopped and waiting for the other train to pass.
The people riding the train range from infants with their parents to senior citizens (many with their grand-children). While the children are the most excited at first, they quickly get bored with the ride. If you don't think your children will be able to survive three hours on a train, you may want to contact the Texas State Railroad about a "short round trip". As we were heading to Rusk, we made a stop at Sidewinder (a small, unattended depot), where several people got on. As we were heading back to Palestine, again we stopped and several people got off to catch the Rusk-bound train. The only drawback is that you will not get to see the trains cross. An employee tells me they are trying this out so be sure to check with the railroad when making plans.
Heading back to Houston we decided to try a different route: 287 to 59. Again, taking the back roads we were still able to maintain safe speeds at 80-85mph. Surprisingly, our drive still took 2 and half hours even though this route was about 10 miles longer.
How did my little 02 hold up during the 600 mile drive? Just great. We had one small problem with the A/C an hour outside of Palestine but that went away after we turned it off for a few minutes. Since then, it hasn't given us any more problems.