Last year, I realized I needed to do some body work on Ol' Yeller (my '74 Golf 2002) so, I would need another car to be able to work on Ol' Yeller. Just as I was about to purchase a new Miata (that fiasco is another story), I ran across Bob Vicars who was selling this great little Malaga '74 2002, complete with sunroof, Recaros and A/C! I bought the car, installed an am/fm/cassette stereo with a CD changer, put some Panasport wheels complete with a new set of Yokohama 509s plus a new Momo steering wheel. Now I had the perfect car for road trips.
A while back the Cajun Chapter had invited our chapter members to join them on drive up to St. Francisville. I was not able to join them but Houston Chapter member Genie Flanery was able to go and shared with us what a great time she had. This year, I was looking to take a three day weekend and go on a short road trip, something we haven't done in some time.
We left Houston about 9am, heading out I-10 to Baton Rouge. As we were heading east, I noticed there were no cars heading west. Six miles out of Baton Rouge, our side of the freeway came to a crawl. As we got closer to Baton Rouge, we saw the reason: the west bound lane had been shut down because of an accident and it was backed up to Baton Rouge. Most folks that were stuck on the east bound lane were taking it well; many had gotten out of their cars and were visiting, eating or playing ball. Thinking back to the number of time we have driven on I-10 to New Orleans, this is nothing new so if you decide to make the trip, you've been warned.
In Baton Rouge, we headed north on 110 to the Natchez exit (8-B). Now we were on Highway 61 which took us all the way to St. Francisville and eventually, to Natchez, Mississippi. Our total drive time from our home in Houston to our Bed and Breakfast in St. Francisville, including a stop to refuel, above mentioned outside of Baton Rouge and a missed exit was about 5 hours.
In St. Francisville, we stayed at the Barrow House Inn (9779 Royal, 504-635-4791)which is actually two guesthouses. We found this B&B by surfing the web and then cross-checking it with an older book we have on B&Bs of the US. Of all the B&Bs we've stayed in, this was probably the largest and best. Our suite, in the main guesthouse was large, with its own bathroom, TV and sitting area. I think the main guest house may have had three or four rooms but I'm not sure - I really wasn't counting. Both houses had a nice porch to enjoy conversations with fellow guests - something we ended up doing quite a bit of. The main guesthouse also had a large dining table where breakfast and dinner were served. If you decide to stay at the Barrow House Inn, make sure you plan on having dinner there at least once - the hostess, Shirley Dittloff (formerly from Houston) is a great cook! But, to enjoy her cooking, make sure you have a party of at least four, her minimum for dinner.
After unpacking and a quick lunch at A Good Place to Eat (it was), we turned left at the only stop light in downtown St. Francisville (it is really a small town) and went site seeing. Our first stop was the Rosedown Plantation.
Our plan for that night was to go to The Myrtles, "The most haunted house in America" for their ghost tour but we were disappointed to find out they weren't doing those anymore (they still do historical tours during the day, though). Instead we made reservations at The Cottage, another plantation but which also has a restaurant which is supposed to be really good. I say it is supposed to be really good but our Chicken Marsala was awful (I later found out that that was the one thing you shouldn't order there - another guest at the Barrow House Inn had also gone there and enjoyed a great dinner but had been advised by the waitress to avoid the Chicken Marsala). If you decide to go the Cottage for dinner or to stay (it also has guestrooms), make sure your headlights are working: once you turn off 61 and take their road to the restaurant, the road gets pretty dark, narrow and part of it is unpaved.
Saturday morning we got up early, I got caught up on my Roundel and Autoweek magazines before joining the rest of the guests for breakfast. This was a great time to meet our fellow guests and to share information on what we had done the day before and what to do and not do. We talked to several people that had taken the walking tour and recommended it highly so we added that to our list of things to do. By the way, if you take your bicycles with you, ask Shirley for a tour map.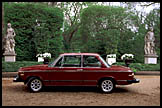 Saturday was pretty busy for us. Our first stop was at Afton Villa. If you go, don't expect to find a plantation home. The home burned down some time ago. The beauty of Afton Villa is its gardens - it is worth the stop. Keeping in mind the attraction are the gardens, Afton Villa is only open in the spring and fall.
After Afton Villa, we headed out to Greenwood, a reconstruction of a plantation home. The original home burned down in the sixties, leaving only the columns standing. The house was rebuilt by its new owners using photographs and whatever they could find to make it as close to the original as possible. Greenwood may look familiar to some you movie buffs since it has appeared in several, including Durango and North and South. This was probably my favorite home for several reasons: for one, the drive to the house was a blast; two you can touch and feel - you want to see how comfortable a piece of furniture is? Go ahead, the owners want you to enjoy the house. The other thing that was nice about the tour was that our guide knew a lot about the house and the family that had owned it. Actually, she told us about visiting the original house when she was a little girl. This house was definitely worth the visit.
After leaving the house, we headed back to our Inn to relax a little and to do some shopping. Actually, I think I ended up spending the most at Grandmother's Buttons. We got some advice from Shirley on places for lunch. She suggested we stop by the Magnolia Cafe, pickup some sandwiches and have a picnic at our next stop, the Oakley Plantation. As Shirley had warned, the Magnolia Cafe was very busy. We got our lunch and headed to Oakley.
Oakley Plantation is now a state park, the Audobon State Commemorative Area. Its claim to fame is that John Audobon stayed here in 1821 as a tutor. While here, Audobon also worked on some of his famous bird paintings. Two things that surprised me about how he did his paintings: he would capture these birds, kill them and position them for his paintings. If you have seen his paintings with a bird and a few chicks, they were all dead and held in place. The other surprise for me was that he actually only painted the birds - he had a teenage assistant who finished the paintings by taking care of the bird's surroundings. Whenever I think of Audobon, I think of him as conservationist, so you can see why I was surprised. (We were told that he later regretted his earlier use of dead birds.)
We returned to sit and relax for awhile on the porch. Here, we met a couple from Houston that had rode in on a BMW motorcycle. We got to talking and it turned out that we had more in common than same make engines: she was a co-worker of club member Renay Andreasen - it's a small world. Of course, they asked if Andy was really that fanatical of his care for his cars (the answer is YES!).
Sunday morning, after enjoying some more of Shirley's great cooking (Saturday night's dinner was great), we packed up and headed north to Natchez, Mississippi. The drive on 61 was really nice, a big change from driving on I-10. Our visit to Natchez was more of a scouting mission. We had originally planned on staying in Natchez but, because of Easter Sunday, we were unable to get a room on Friday. I really didn't want to spend one night in one place and the other night another place, too much of a hassle packing and packing. There was a big difference from Natchez and St. Francisville. Considering I wanted to relax as much as I wanted to get away and site see, St. Francisville (with its one stop light) was what I had been looking for.
The homes in Natchez were different from those in St. Francisville and the homes between Baton Rouge and New Orleans in that they were townhomes whereas the other big houses were self supporting plantation homes. By the way, when visiting these homes you'll notice that, whether they were plantation homes or townhomes, the homes in Natchez and St. Francisville had closets, unlike the plantations on River Road just outside of New Orleans. Keep in mind that this territory was English and homes were not taxed by the number of rooms as they were in New Orleans (and closets did count as rooms).
I had wanted to leave about mid-day from Natchez so we only had time for two homes. One was the Melrose House (a National Historic Park) which was fine but not that memorable. The other house was Longwood.
At a time when plantation homes were costing about $12,000 to build, the owner of Longwood had spent $80,000 to build the house. Furthermore, he never finished the house. He managed to get most of the outside completed and the basement before the Civil War started. Once the Civil War started, the workers (from Pennsylvania) dropped their tools and headed back North to pick up their weapons. Even if Dr. Haller Nutt, the owner, found workers, he couldn't get materials to the South. Dr. Nutt lost most of his wealth after the war and was never able to finish the six story house (they estimated it would have taken another $80,000 to complete the house back then). Even though the octagonal house was never completed, the ground floor (or basement) was finished and lived in for about 100 years. If you go to Natchez, make sure you check out this house!
For our drive back to Houston, we decided to take the back roads. As we crossed the border back into Louisiana, I noticed that I had about half a tank (about 100 miles in my 02) and thought I better fuel up. As we watched for our road that would take us to Alexandria, we pulled into a corner gas station, fueled up and went out the other road back onto the road we had been traveling. After fifteen minutes, we still hadn't found our road, the signs were not making sense and it seemed we were heading north instead of south. Fortunately, I had some of my flying gear with me and so, I pulled out my GPS (Global Position System). For those not familiar with GPS, it's a navigational aid that uses satellites to pin-point your location (BMW now offers GPS in 5 and 7 series cars an option). Fortunately for us, the road we were on and the one we were looking for showed up on my unit (since I use my unit for flying, I don't need to have all the detail offered by BMW's unit). We turned the car around and as we headed back east I thought "I bet we were supposed to turn at that gas station". Sure enough, that's where we were supposed to turn.
The rest of the trip was pretty uneventful, except for seeing club member Chris Brooks driving himself and BJ to one of Louisiana's casinos. Chris and BJ had participated in the Houston Miata Club's drive to New Orleans and, on the way back to Houston, they decided to make a detour and stop at the Grand Coushata Casino (I always thought this place was in St. Charles but, it's actually about 20 miles northeast of St. Charles). Chris tells me The Miata Club took the back roads to New Orleans, which took substantially longer then I-10 but he says it is definitely worth the drive - I think I may be trying that next.
Despite taking the back roads from Natchez to St. Charles, it really didn't add to our drive time. In fact, I still managed to get home in time for the Simpsons. Of course, when I realized I was 70 miles east of Houston and I was doing 80MPH, I tried not to let the speed drop.