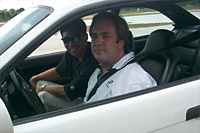 It was a wet and drizzling morning; street traffic was almost down to a full flag yellow. It was also the day of the 24 Hours of Le Mans. I knew it was a day for us car guys and gals.
We showed up at Momentum BMW early Saturday morning. I thought I was early, but James Salazar and Mike Sterry were already there checking out all the goodies that Café Express has to offer.
While I was waiting in line for my complimentary Dinan T shirt, Tom Hobbs is already asking tough question of Steve in front of one of a supercharged Dinan prepped M3 machine.
Today's program includes two "informational sessions". I thought it was just a sales pitch with Steve telling us what his supercharger can do to our Bimmers. To my surprise, the morning session was a very in depth discussion of suspension design in our cars versus a purpose built racecar. And the afternoon session was all about "chipping" and dyno testing. They were both informative and entertaining. Each session was preceded with a short video of Steve Dinan's mighty M5 in races. Steve Dinan's M5 packs 740 hp!
After each informational session, door prizes were given away. Cary Bonner won one of the 5 "White knuckle" rides with Steve. We were all excited for Cary. Then came the downpour, then Steve was taking people out one by one.
Momentum did a fantastic job putting together this neat little test track. The length of the track is very similar to the Ultimate Driving Experience at the Astrodome last year to promote the E46 3 series.
After each 2-lap run, Steve would put his finishing touch by spinning his white M3 in the skid pad. What a show! Everybody would simply stop eating and go outside Café Express or look through the panoramic windows.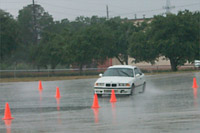 After the second session, Mike Sterry won a set Pirelli tires and Carlos Campos won a free meal. Then it was the white-knuckle ride! Karen said she would give me her ticket if she won, that was very sweet of her. First number was called; it's not me. When the second number was called, I looked at my tickets and I had a feeling that I would win. "392294", it's me, it's me! I got up and went to the announcer. I went outside, looked at a few Dinan modified Bimmers and it's my turn to ride.
Steve asked me for my name and off we go. First thing I noticed was that Steve's car has so much more power than my, now humbled, M3. Acceleration out of a turn was awesome. Since the front of the car has 4 degrees of negative camber, it seems that the tires are always making good contact with the ground. Steve's driving was relaxed, this little M3 only has half the horsepower of his M5. He told me he went down to Sears Point in Sonoma County about once a month and he also races at Laguna Seca in Monterey. He also teaches at driving schools.
Steve impressed me with his knowledge of BMWs and how to make our BMWs faster and better than what the factory can offer. His dedication to one marque, our marque, and the desire to make his car go faster than any body else is probably what most club members want to do but haven't had the opportunity to do.
I think Momentum did an excellent job of putting together a great event for the BMW enthusiasts and in being one of the first dealership to have their own test track for us to test drive their fine automobile is remarkable. I was also very excited to see so many BMW club members out there. I hope this is just the beginning of many good meetings to come.
What's next James?
To answer Tomme's question, we have been talking with Momentum about having a Club event at their new new Perfomance Center (including the test track). As always, stay tuned.
-James Salazar