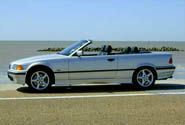 After two years of talking about doing a drive to your New Orleans, our drive finally happened. Although we had many people respond enthusiastically that they would attend, the turnout was much smaller than what we would have liked. Still, those that showed were pretty excited about the drive.
We had perfect weather for this drive and at our first stop, for a break and to enjoy the view of the Gulf, the convertible tops came down. Our drive took us on a ferry, along the Gulf of Mexico coast, through swamps and by some nice antebellum homes. Of course, it was not all scenic: we did have to drive through some industrial areas but seeing those huge ships and oil gear was interesting, too.
One thing we did get plenty of: bugs! At one point, I had turned my headlights on while driving through some thick smoke from a fire. At our lunch stop I realized what a waste that had been. My headlights had so many dead bugs on them that I doubt anyone noticed I had them on! After lunch, we all must have spent half an hour cleaning our windshields and headlights.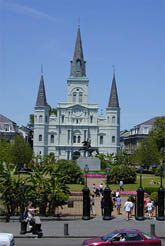 Everything was going well until we arrived in New Orleans and our hotel. Last year we had checked out the New Orleans scene and we decided on the Cornstalk Hotel. It had a great location (on Royal, one block south of Bourbon and close to Jackson Square) and it offered parking in the driveway or so we thought. When we pulled into the driveway, I was happy to find the driveway empty except for one car. But when we checked in, we were disappointed to learn they had changed the rules (without informing us) on parking since we made our reservations. Even worse, the two lots the hotel recommended were full and we were forced to park several blocks away and to pay $15 per day. Of course, the hotel fell out of grace with us. If the hotel would have informed us about the changes, we would have gladly reserved parking when we made reservations for the room. Well, we tried not let this bother us but the idea of the parking attendant pulling a Ferris Bueller stunt on us kept coming back (I was happy to find my mileage read 9999 – an easy number to remember).
The weather was great for the entire weekend. Once in New Orleans, we parked out cars and explored the many small shops in the Quarter, took in an IMAX movie, checked out the aquarium and the Harrah's new casino. There was something for everyone. Two of our members even took in a ghost tour while, at the same time, some us decided just to sit on the porch of the hotel to chat and watch people and carriages pass by.