Autocross Essentials
What is autocross?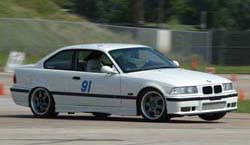 Autocrosses are low-speed timed driving skill events. They reward car control and skill yet, most importantly, are fun! You don't need to be Mario Andretti and have an M3 Lightweight to do well. They consist of timed solo (i.e., you are alone on the track) laps of a twisty course laid out using traffic cones. The objective is to drive around the course without hitting any cones or missing gates. The main attraction of autocrossing is that it allows drivers to compete in a safe environment. Not only are the speeds low (under 60 miles per hour at the fastest point in a lap) but also the course is laid out such that the only obstacles are soft traffic cones.
Stuff to bring
water
snacks
hat
sunglasses
sunscreen
tire pressure gauge
helmet (loaner helmets available)
umbrella
spare socks and shoes if raining
folding chair
Autocross Location
Except for the Trifecta, all autocross events are held at the Houston Police Academy:

Autocross FAQs
Q: I would like to come watch. Are spectators allowed? How much does it cost if I just want to watch?
A: Spectators are allowed. There is no charge for watching.
Q: How much does it cost to compete in an autocross?
A: The Houston BMW CCA charges $35 if you sign up online through https://clubregistration.net/. On the day of the event, we accept walk-ups at $45. Payment in cash is preferred, as  we do not have the ability to accept credit card payments on site. You have to be a BMW CCA member to participate in our events. You can become a member at http://www.bmwcca.org/.
Q: This is my first time autocrossing. What should I expect?
A: Answers to many of your questions may be found in the document located here. If after reading this you still have questions, feel free to post them on the forum, or email them to autocross@houston-bmwcca.com.
Q: What class does my car run in?
A: Visit the Autocross Class Worksheet. If your car is a BMW (including MINIs), select the year of your car from the first column, and then the model from the second column. Then, locate any modifications you have made in the five tabs on the right hand side of the page and click on the box next to each one. Your car's base points and modification points will be totaled, and your car class indicated near the top of the page. For non-BMWs, your class is determined by the table at the bottom of the Autocross Class Worksheet page.
Q: What kind of helmet do I need for autocross?
A: The Houston Chapter BMW CCA's helmet requirements are that a helmet used in autocross competition must adhere to the current Snell standard or the most recent prior standard. For the 2018 season, that means that Snell 2010 and Snell 2015 helmets are acceptable. SA or M rated helmets are allowed for autocross. Helmet Rating stickers are holographic and on the inside of the helmet under the padding. These holographic stickers are required by tech to verify authenticity of the rating.
Q: Can I have a passenger in the car during my runs?
A: If there is more than one occupant in the car, one of them must be a club-approved instructor. These individuals will be pointed out to you during the drivers meeting. This means your friend/wife/husband/significant other, etc. may not ride with you unless they happen to be one of our instructors. They are however welcome to catch a ride with one of the instructors if you want them to see what all the excitement is about.
Q: How do I become an approved instructor so I can get one of those attractive lime-green T-shirts?
A: Start by filling out the form located here, and emailing it to autocross@houston-bmwcca.com. At a subsequent autocross, you will be asked to ride with several beginning autocrossers who will provide the autocross committee with feedback on your instruction. Once you pass this phase of the evaluation, you will be awarded one of the coveted green shirts.
Q: Can I compete in a different run group than the one my class is assigned to?
A: If an autocross driver requests to drive at a time other than with their designated class, then they will be recorded as finishing last in class (regardless of their actual times) unless the entire class agrees to allow the times (opportunity for good sportsmanship if there was no significant difference in conditions). If a driver runs at a time other than with their designated class at the request of the autocross committee, then they will be treated as if they had run with their class.
Our objective was to be as consistent and fair as possible but not to penalize someone who potentially either lost or benefitted for the support of the event and all participants. We also did not want to introduce subjective measures of individuals reasons for wanting to adjust their run schedules for various personal reasons.
Q: Is the taking of still or motion pictures allowed at autocross events?
A: Photography is permitted from the spectator area. Photography is also permitted from the beyond the spectator area, provided you remain behind the yellow barriers and are accompanied by a spotter. Photography by corner workers is not permitted. Also, handheld cameras may not be used by passengers in vehicles on course.