iCal
Schnell Fest D.E. at COTA
Date/Time:
Sep 20, 2019 - Sep 22, 2019
All Day
Description:
This Porsche Club of America Driver Education event is a joint presentation of the Hill Country, Lone Star and Maverick Regions – PCA, with the support of our good friends at the Houston Chapter BMW-CCA. We're calling these events at COTA the "Austin Schnell Fests" to emphasize the fact that these events are not just for Porsche or BMW Drivers – drivers of every make are invited to participate, and membership in PCA or BMW-CCA is not necessary.For all our Schnell Fest DE's, a new FOUR RUN GROUP FORMAT WILL GIVE YOU LONGER SESSIONS! Our previous Schnell Fest events have been 3-day events, with five run groups, each with four 24-minute sessions/day for a total of 288 minutes of track time in three days. Last year the cost was $945. Under our new 2-day format with four run groups, each driver will have four 35-minute sessions/day for a total of 280 minutes of track time on Saturday and Sunday for $850. This is virtually the same amount of track time as our previous format, but you'll have longer 35-minute sessions for a better track experience at less cost.
But we know there will be some advanced drivers that want even more track time. We are introducing optional Friday afternoon events for these advanced solo drivers. On Friday September 20 we will have an OPTIONAL afternoon event for solo drivers only (blue solo and above). We'll run from 1:00 p.m. – 7:00 p.m. on Friday. We'll have three run groups, each group having three 33-minute sessions. This will give you a total of 100 minutes of track time on Friday alone. If you drive Friday, Saturday and Sunday, you'll get a total of roughly 380 minutes of track time. That's over six (6) hours. Registration priority will go to drivers who have also signed up for the Saturday and Sunday event. The registration cost for the optional Friday sessions will be $250 (if you are signed up for all 3 days) or $350 (if you are signed up for Friday only).
Registration opens at Noon on August 7th on clubregistration.net.
Registration is solely through clubregistration.net.
Registration website: https://clubregistration.net/events/signUp.cfm/event/10010
Event website: http://austinschnellfest.clubregistration.net/
All run groups will run Saturday/Sunday. The registration fee is $850 for all run groups.
Optional Friday (solo drivers only) registration fee is $250 (if you are signed up for all 3 days) or $350 (if you are signed up for Friday only).
Those drivers who register for the optional Friday afternoon sessions and Saturday Sunday receive a $100 discount so the total registration for all three days is $1,100.
Registration fee for instructors is $300. (Instructors registering in August pay only $250!).
A limited number of Formula 1 Garages will be available for rental. Individual garage "spots" are available at $300/spot for the weekend, with a limit of four "spots" per driver. So, if you want to rent an entire garage at registration you'll select and pay for the option of 4 spots at $300/spot No individual day garage or garage spot rentals.
For first-time HPDE drivers, a Friday afternoon Novice Orientation is mandatory. This will include two classroom sessions and two on-track sessions with your instructor. The cost for this Mandatory First-Time Novice orientation is $150.
All drivers in the Novice run group will be instructed. This means that an experienced PCA, BMW-CCA or other marque driving instructor will be with these students in the right seat of their car while on track. Our instructors use helmet communicators to communicate with their students.
Advanced run group drivers can also request instruction.
More information is available on the event website: http://austinschnellfest.clubregistration.net/
Questions: contact dgross@grossandnelson.com or 512-497-1111.
Please plan on joining us September 20-22, 2019 for the next Schnell Fest HPDE at COTA!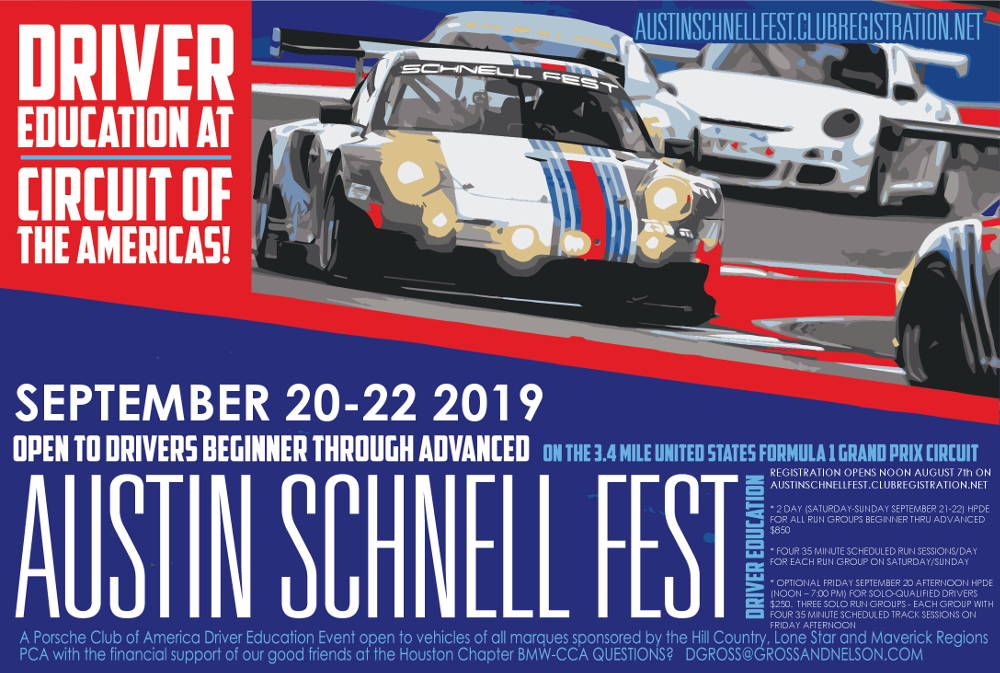 Location:
Contact:
Registration: