iCal
Hair of the Dog Drive
Date/Time:
Jan 1, 2020
9:00 am - 3:00 pm
Description:
On January 1, 2020 we will be having our famous (or is it infamous?) Hair of the Dog drive.
Meet at:
9:00am on January 1, 2020 – of course!
(9:30am departure)
Meeting point:
Buc-ee's
40900 US Hwy 290 Bypass
Waller, TX 77484
Lunch:
To be annouced.
RSVP is required for lunch headcount!
Register by December 30th 2019.

Event route will be emailed to participants upon registration. You are responsible for bringing your own hardcopy of route.
Register for the event by entering thee requested information below.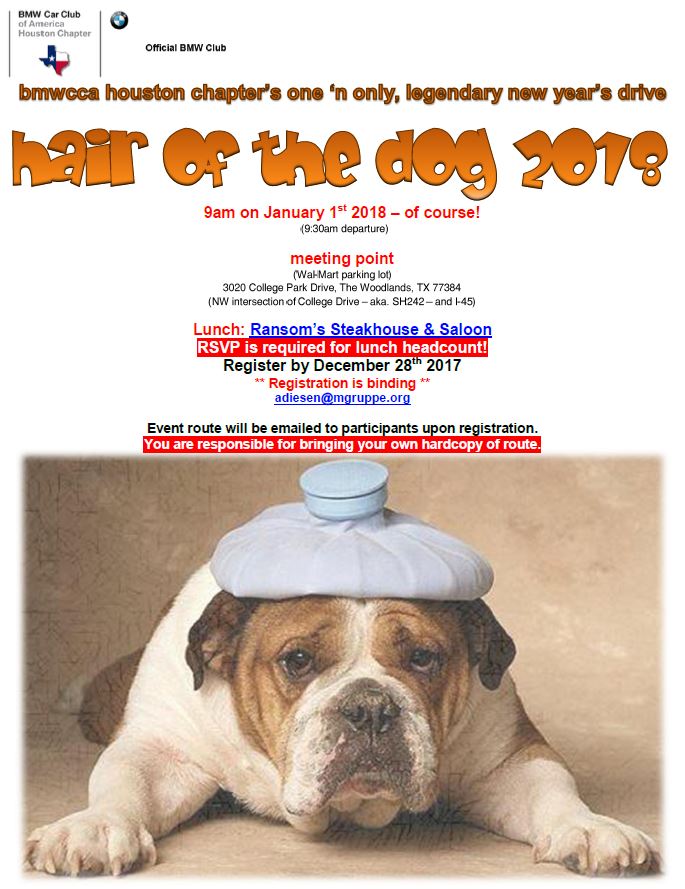 Location:
Registration:
Registration is closed for this event.
Who's going:
Katie
Jeff Otten
Ed Solymosy Jr
Harris Hurst
Edina Nagy
Richard Lo
Paul Kwan
Neil Olsen
Carl
Dan & Valerie Baker
Jim MOFFITT
Jim Robinson
Ken & Vikki Finley
Ross & Sally Twaits
David & Janet Meaux
Eric
Rachel and Constantine Kelesoglou
J R Ridgway
Total # of people attending: 35